Protonmail vs Gmail: What's The Best Email Provider In 2022
If you are here to see the ultimate comparison between Protonmail vs Gmail. Well, then you are in the right place. In today's article, we will take a deep look and compare the two best email providers side by side. 
Although Gmail has a total market share of 36.5% in Email, still does it mean it is better and more secure than other emails? Chances are you are using Gmail right now. But, does Gmail cares about your privacy? You will get the answer of your every question in this article. So, stay tuned.
Google Gmail (opens in new tab) is one of the most well-known email service providers. Given its ubiquity, it appears to be a natural choice for corporate email. However, a problem with data privacy and security has lately appeared.
People are getting increasingly worried about the protection of their data as news about large internet corporations' partnerships with government agencies emerge, and they are seeking for alternatives. Protonmail(opens in new tab) is one choice that prides itself on its approach to security and data encryption.
This article discusses the distinctions between Gmail and ProtonMail. Although both providers offer a similar UI, they are substantially different.
Gmail has additional capabilities for more personal usage, but Proton Mail is solely a secure email service that sends mail with end-to-end encryption.
If security is your top priority when it comes to email services, Proton Mail could be the one for you.
Gmail, on the other hand, will give a superior service if you find yourself going back over previous emails or having a lot of email thread chats.
Let's go over the many features of both email services and end with the benefits and negatives of each!
While many users have already converted to ProtonMail due to its superior security and privacy features, many Gmail users just do not see the value.
Though ProtonMail is unquestionably the more secure of the two services, some users may claim that the added protection isn't wholly essential.
But, with ever-increasing security dangers, is that truly a safe assumption? What about other email qualities like usability or scalability? While both providers are outstanding in their own right, each has its own set of advantages and disadvantages.
In this post, we will compare the features, performance, support, and price of both email services in order to decide which one is the best corporate email provider.
Protonmail vs Gmail: Quick Summary
Before doing the Ultimate comparison between Protonmail vs Gmail. Let's have a short and quick summary to know much about these email providers. 
Gmail Review
With a 36.5% market share, Gmail is on the number one spot on the email provider list. Gmail is owned by Google. Gmail has a total number of 1.5 billion active users worldwide.
It was launched back in 2004 and offers 1GB of storage then but now it is increased up to 15GB. Gmail is one of the easiest and user-friendly interfaces and that's why it is on the number one spot.
Gmail scans and filters your email so you won't waste your time reading spam emails. One thing that makes Gmail unique is that it is available in 105 languages. So, here are some Pros and Cons of Gmail. 
Userfriendly interface

Stronger Spam detection 

Open Source

End to End encryption

Offers 15GB of free Storage
No Customer Support

Can be easily hacked if 2-factor authorization is not activated.
Protonmail Review
Protonmail is the most secure email provider which offers end-to-end encryption and was founded back in 2013 by a group of scientists in Switzerland. Protonmail is owned by its parent company Proton Technologies AG and has a total number of 50million users worldwide. At first look, it doesn't seem like you can compare Gmail with  Protonmail. But wait, you can't just judge them by their number of users there is more coming up just in a moment. Well, here are some Pros and Cons of Protonmail that might change your mind.
End to End Encryption

Takes users privacy very seriously

Open Source

No personal info required

Apps for both Ios and Android are available

User-friendly interface

Offers Dekstop Support
Lack some useful features
Protonmail vs Gmail: The Ultimate Comparison
Well, now you have read the review of both of these email providers and know what are the pros and cons. Now, it's time for the ultimate comparison between Protonmail vs Gmail. 
Features
Both of them are loaded with different and unique features for personal use. But, when it comes to the business domain, it is a must-have feature. Fortunately, both of them provide custom domains in their paid version.
Both of them have a simple and clean user interface that allows users to engage with them for a longer period of time. Both of them have archive and star folders as well. Although both of them have similar two features, some features are different as well which we are going to tell you now so that you can compare them and choose the email provider as per your need.
Protonmail Is known for its security features. It has an end to end encryption and also you can set a password on emails that recipients need to open that specific mail. Protonmail also has a  self-destructive feature. Well, all  I can say is that it gives Protonmail a plus point over Gmail.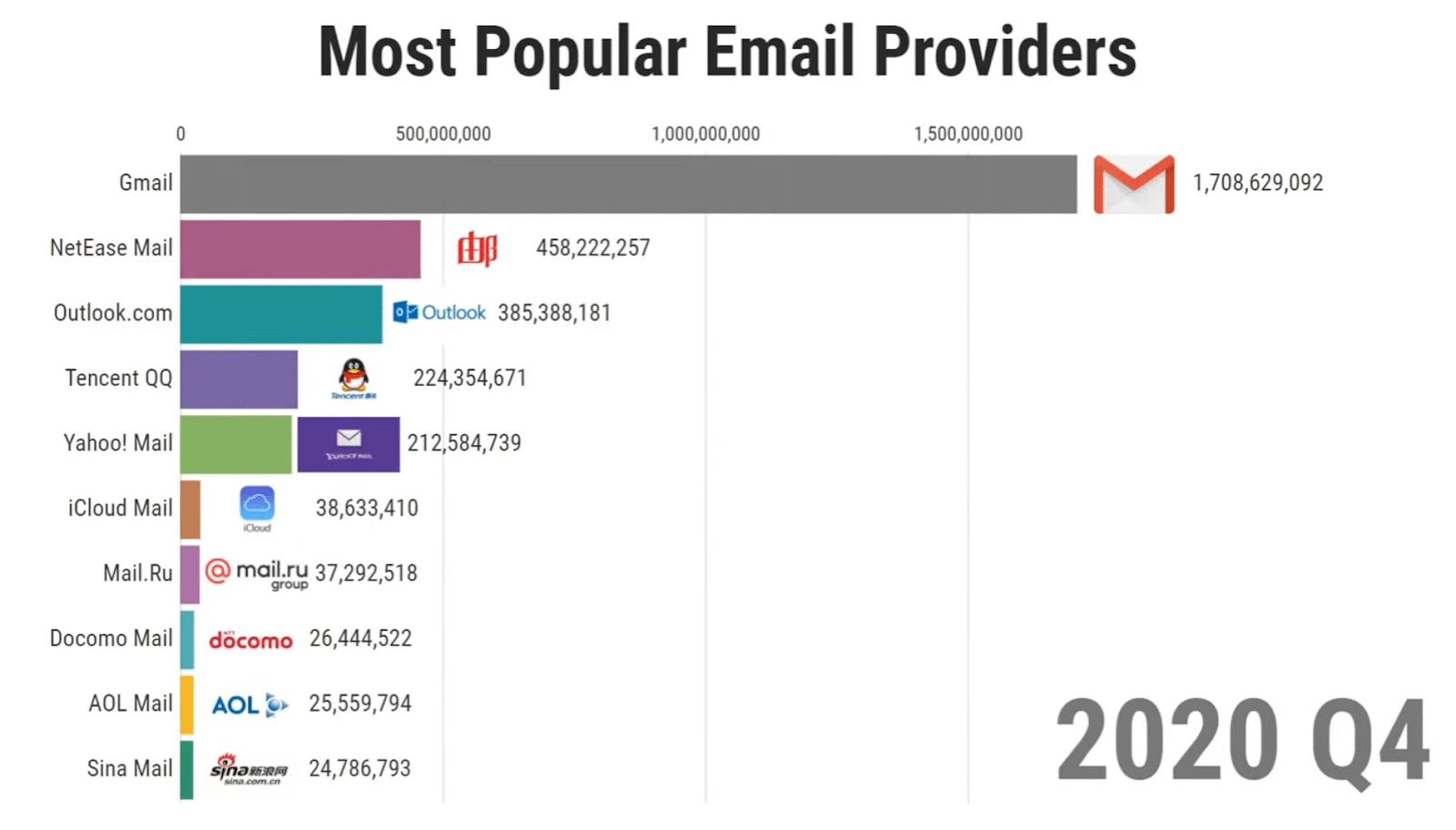 One of the most important requirements for an email service to be regarded for corporate usage is the ability to utilise custom domains. This functionality is available in both Protonmail and Gmail's premium subscriptions.
They also feature user interfaces that are similar, with folders for the inbox, draughts, sent, and so on. You may make your own folders for archiving emails and configure filters to conduct various actions on incoming messages.
While there are numerous similarities between the two, each supplier has a few distinct benefits.
The key selling point of Protonmail is its high security: it features end-to-end encryption of all emails, the option to encrypt emails with a password that the receiver must enter in order to access the email, and emails that self-destruct after a certain period. The firm and its servers are situated in Switzerland, where data privacy rules are strictly enforced.
Performance
After features, one thing that most of us should consider while choosing an email provider is their performance. Both Protomail and Gmail offer apps for Android and IOS or you can also use it on your browser at your convenience. 
As we know that Protonmail takes security very seriously and if another person sends you an email that can be self-destructive then you can not see them again while Gmail can't offer this. So, you can see your old emails in Gmail but not in Protonmail.  
Both Protonmail and Gmail have Android and iOS applications, or you may use the online version in your preferred browser on a desktop or laptop computer. Many desktop email programmes, including Microsoft Outlook, Apple Mail, and Mozilla Thunderbird, support Gmail, however Protonmail does not. If you want a desktop version for Protonmail, it appears that the sole choice is to download a "wrapper" software from Github.
Protonmail's web browser user experience is comparable to that of many desktop programmes, which compensates for the lack of a dedicated desktop software.
In another crucial aspect, Protonmail falls short of Gmail. As previously stated, Protonmail takes security very seriously.
While data encryption is fantastic for security, it's not so great for searching for earlier emails. You may search for previous emails in Gmail by subject line, sender, recipient, date, folder, or contents.
Because of the encryption method, Protonmail does not index your emails, therefore you cannot search the contents. As a result, Protonmail's search capability is significantly more limited than Gmail's.
If you do a lot of searching like this, you should think about whether the greater security is worth more than the missed functionality.
Support
Protonmail vs Gmail both offer support. In Gmail widgets, you can get your answers while in Protonmail you go directly to their website where you can get your answers. The plus point with Protonmail is that if you can't find the answers to your questions you can directly mail your question to their support team or you can fill-up the form to get your answers.  
Both Protonmail and Gmail include knowledge bases with articles covering a wide range of subjects. Gmail includes a help widget within its mailbox interface where you may search for answers, whereas Protonmail directs you to its website's support area.
If you can't find what you're searching for in the current help articles, you may email or fill out a form to contact the Protonmail support staff. The extent of assistance varies depending on your plan.
Gmail does not offer direct contact options, however you can ask questions in the Gmail Help Community boards. However, because Gmail is part of G Suite, administrators have access to phone, email, and chat assistance 24 hours a day, 7 days a week when signed in to the admin account.
Pricing And plans
Both Protonmail and Gmail have free options, but to use it for business, you'll need to upgrade to one of the expensive plans. It's worth noting that the commercial version of Gmail is really part of G Suite, which contains a slew of other Google products.
Prices for Protonmail range from $5/month for a single user to $8/month for up to 5,000 users. Each user is given 5 GB of storage space and five email accounts.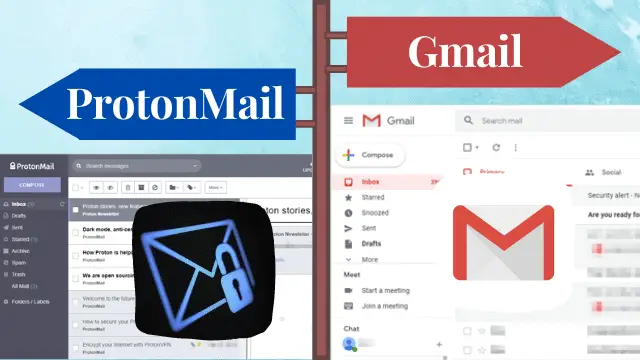 The amount of emails that can be sent each day by a single user is limited. A Visionary plan with six users and 20 GB of storage costs $30 per month and includes ProtonVPN. All of Protonmail's plans are less expensive when purchased for a year.
G Suite has three plans: Basic, Business, and Enterprise, with prices ranging from $6/month per user to $25/month. The Basic plan's email storage is restricted to 30 GB, but the other two options feature unlimited storage.
Protonmail is less expensive, but G Suite provides far more storage capacity, which may be worth paying extra for considering how rapidly mailboxes can fill up.
Protonmail vs Gmail: Side by Side Comparison 
Well, let's compare Protonmail vs Gmail side by side. 
Interface 
When it comes to the interface both email providers offer a very simple and user-friendly interface. But, to be very honest Gmail has had the same user interface since its launch in 2004 but slightly some tweaks here and there which makes it even boring. 
While on the other hand, Protonmail offers a very beautiful, simple, and clean user interface that obviously you expect from the modern email providers. It comes with a 3-panel interface which looks absolutely stunning. 
Privacy
Gmail offers P2P encryption which is good to some extent. But here are the flaws: it can be read by you and by Google as well and here you compromise your privacy. 

While on the other hand, Protonmail uses end-to-end E2E encryption which is more secure than P2P encryption. Protonmail respects your privacy and through E2E  encryption they can not read your mail and you can have your private discussion. 
Let's compare the privacy and security features of ProtonMail with Gmail.
Gmail employs Transport Layer Security, or TLS. This implies that a message is encrypted while it is transmitted and decoded once it reaches the recipient's inbox. Emails are transmitted securely, but once opened, anybody with access to the account can read the message if it is left logged in or hijacked.
When you sign up for a Gmail account, you must provide a lot of personal information. Gmail also uses information from your search history to tailor adverts you see on Google.
End-to-End Encryption is used by Proton Mail. This means that all communications are transmitted securely and can only be opened once with a password. You may also set emails to self-destruct after a certain amount of time.
Proton Mail is headquartered in Switzerland, a country noted for its stringent data and privacy regulations.
When making an account with Proton Mail, you do not need to enter any personal information, and you may even use an anonymous email address.
To summarise ProtonMail versus Gmail security, Gmail is more likely to have emails leaked or hacked. Although the email service is safe, your communications are no longer private or secure after they are delivered.
If you often communicate sensitive information over email, Proton Mail may be the best option for you. In our blog, you can learn more about the best secure email providers.
Why is Protonmail better than Gmail? 
E2E Encryption
In 2014, Protonmail became the world's first email to have end-to-end encryption. With end-to-end encryption only you can read your mail.
Your Data Belongs to you
As I have already told you multiple times in this article Protonmail respects your Privacy. You know what? When you log in somewhere through Google you give your personal and sensitive information to Google. While on the other end Protonmail knows nothing about you so they can not read your emails or sell your data to other third-party websites.
ProtonMail vs Gmail: Business or Personal?
For a variety of reasons, Gmail is a preferable email provider for personal usage.
For organisations who are simply concerned with privacy and security, Proton Mail is a superior email service to utilise.
If your company sends a lot of vital data and information over email, Proton Mail is an excellent option.
However, if your company has a lot of conversation threads and mailing lists and relies heavily on email, Gmail would be more useful. Furthermore, if you want to search for older emails, store communications, and organise them into folders and categories, Gmail is the ideal option.
Proton Mail is mostly used for sending secure emails. You may continue to send emails using Proton Mail while using Gmail as your primary business account.
For example, if you need to send a secure email, create a Proton Mail account and send the message. Make sure to transmit the passcode to the email's recipient so they may access it. You are not required to use Proton Mail exclusively.
Other Differences
Other desktop email programs, such as Apple Mail and Microsoft Outlook, support Gmail account integration.
To use ProtonMail on your desktop, you must first download the 'wrapper' program.
Your messages are not indexed in ProtonMail, so you won't be able to find discussions or old emails as you can in Gmail.
Gmail has a help widget that allows you to search for answers within the program.
Gmail does not offer any contact possibilities. You can, however, post queries on the Gmail Help Community
Forum. If you are a Gmail administrator, you may contact support. ProtonMail will direct you to their web-based help website.
Depending on your plan, you can only send a certain amount of emails and have a limited number of addresses with one account.
If you're looking for an alternative to your mail service, here are some of the greatest paid email services and free web-based email providers.
ProtonMail vs Gmail – FAQs
Is ProtonMail superior to Gmail?
ProtonMail is primarily used for secure email transmission. Gmail is more feature-rich for personal usage.
Is it better to use ProtonMail versus Gmail?
Gmail allows you to search for past messages, create folders and filters, and use other functions. ProtonMail is just for delivering secure communications that require a password to open.
Which is more secure, Gmail or ProtonMail?
ProtonMail is headquartered in Switzerland. Their email provider promises that your mails will not be hacked due to their strong data rules.
Is it worthwhile to pay for ProtonMail?
The basic account does not come with a lot of storage space. So, if you send a lot of messages and wish to have many email accounts, upgrading your account is an excellent option.
Conclusion 
Well, now it's time to wrap up the whole article. In this article, we have dug very deep into Protonmail vs Gmail and take a deep look. Furthermore, we have also compared them side by side.
Now all I can say is that if you respect your data and take your privacy very seriously then in the battle between Protonmail vs Gmail then Protonmail might be the perfect fit for you.
Protonmail and Gmail both provide comparable feature sets and can be accessed from any device. Gmail is somewhat more costly than Protonmail, but it provides far greater email storage capacity. Because Gmail is part of G Suite, it also comes with a slew of additional apps.
Although we prefer Protonmail's security over Gmail's, it is only worth considering if data privacy is a key concern. Even so, you'd have to be willing to forego the opportunity to search the contents of your emails.
Gmail is likely to be the superior choice for a professional email service for most organisations.